On-demand custom mechanical parts made from your 3D model
meviy provides an instant price and lead time for your custom parts.
Sheet Metals

Material: steel, stainless steel, aluminum and resin
Various sheet thicknesses with a length of up to 1200mm
Standard or individual tolerance selection
Surface treatments from powder paint to electroless nickel plating

Learn more

Turning Parts

Material: steel, stainless steel, aluminum and copper
Diameter up to 300mm and length up to 1000mm
Surface treatments from nitriding to phosphating
Heat treatments available

Learn more

CNC Milling

Material: steel, stainless steel, aluminum and resin
Up to a length of 600mm
Standard or individual tolerance selection
Surface treatments from anodize to black oxide

Learn more
That's meviy
:
Discover our special features
meviy explained
:
Get to know meviy in 2 minutes
Succesful together
:
Key customers rely on meviy
MasterBrand Cabinets David Mackey - Sr. Manager Design Engineering
When meviy first came out, I compared costs with local shops and meviy had them beat. They were probably at least half of what the local was.
If I take 10 parts and send them down to a machine shop, it'll take them a week to get me a quote. With meviy, I have a quote within two minutes.
Panasonic® Corporation T. Kubo - Production Technology
I appreciate that meviy explains the specific reasons when there are model errors. Designers are expected to create models that are easy to process. In this regard, meviy directly informs us of challenging areas to process. This knowledge greatly benefits our growth as product designers.
Denso Corporation M. Obara - Production Technology
The elimination of the need for 2D drawings is significant. Creating a 2D drawing takes about 1 to 2 hours for simple shapes and 2 to 3 days for complex ones. Since the design is on hold until a quote is obtained, it takes about 2 months for a small device and about 3 months for a larger one to be completed. However, with meviy, a small device can be fabricated in about 3 weeks, and a larger one in about 1.5 months. The design cycle has significantly accelerated.
Quick and efficient
:
Precision manufacturing can benefit all industries
Additive Manufacturing

Automotive

Electronics

Energy

Industrial

Machine Tools

Medical & Pharma

Packaging
MISUMI
:
One stop shop - For all you needs
Use meviy to get your customised parts quickly, cheaply and in the best quality. And if you need more than just individual components, we can help here too - and without additional registration. Because meviy is a service from MISUMI and in the MISUMI webshop you will find a selection of more than 20 million standard parts. So you can cover all your needs without compromising on quality. Benefit from our many years of experience and discover all the advantages of MISUMI!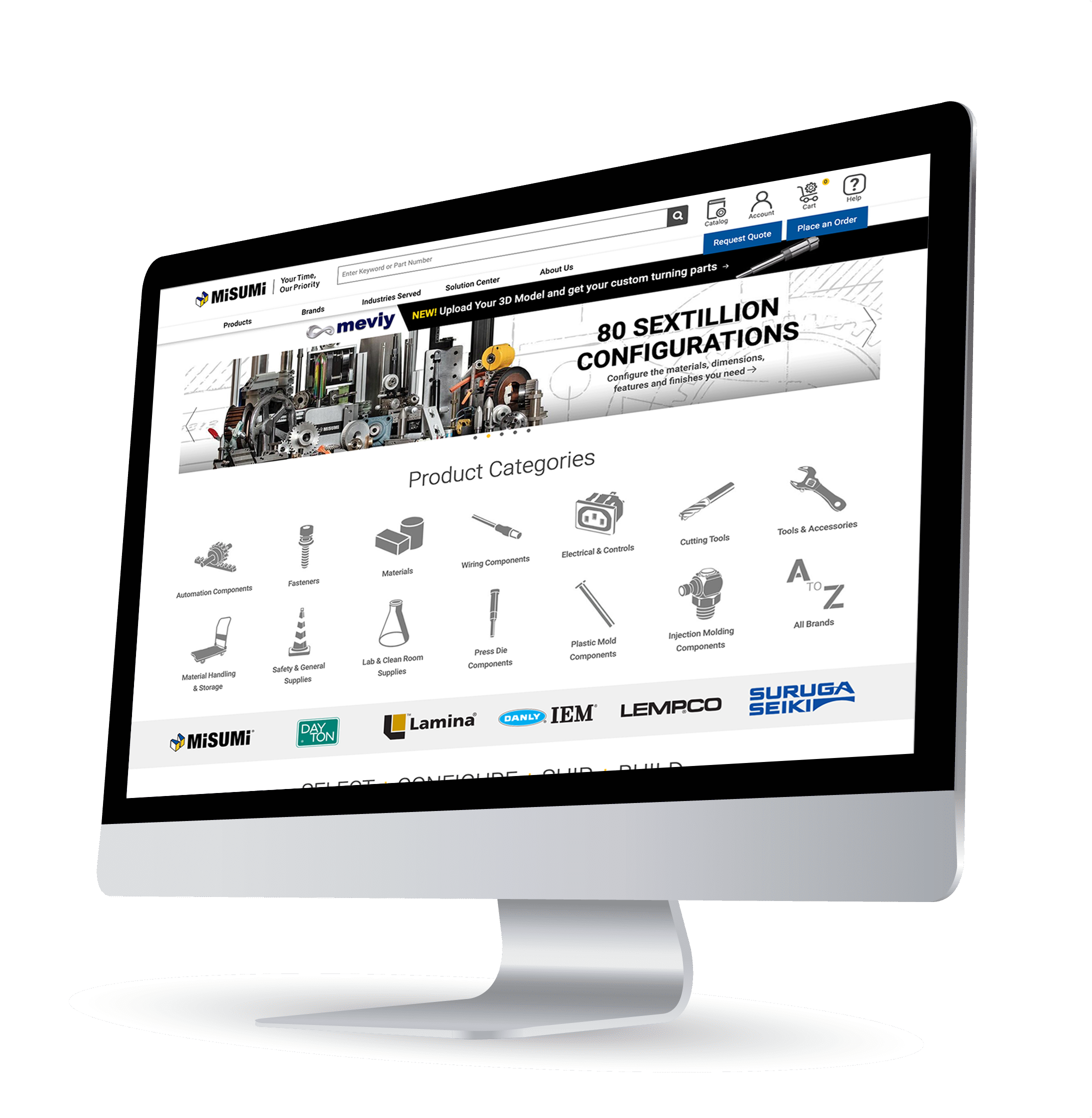 Data security
:
Your data is well protected
We use SSL encryption for communication, which works similarly to credit card encryption.

Our system encrypts the component data so that it cannot be deciphered even in the event of unauthorised access by third parties.

Our platform is designed in such a way that users cannot access the data of other users unless explicit release permissions are granted.

We regularly regularly conduct security assessments by external organisations. This ensures that our system is resilient, up-to-date and resistant to the latest cyber attacks.
Tested and officially certified
:
Our commitment to the highest standards
We take responsibility seriously and do not see it as an empty promise! Since 2008, we have been proud of the continuous certification of our management systems 9001 (Quality) and 14001 (Environment), demonstrating our commitment to excellence in these areas. Furthermore, in 2016, we successfully completed our first energy audit according to DIN 16247-1 to reaffirm our efforts towards efficient energy use and responsible resource management.
Therefore, we strive to regularly renew our certifications and continuously improve. We take pride in making responsibility an integral part of our corporate culture and business practices.